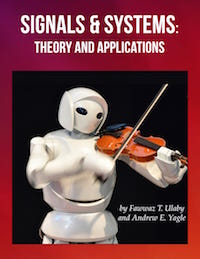 Download free Textbook PDF or purchase low-cost hardcopy
Welcome
Welcome to the website for Engineering Signals and Systems, Theory and Applications, developed to serve the student as an interactive self-study supplement to the text.

We hope you find this website helpful and we welcome your
feedback
and suggestions.

Software Installation
Software is used to bring the concepts discussed in the book to life. These files are provided to give you a head start in simulating and exploring concepts.